Eldorado Climbing Walls recreates Yosemite, Devil's Tower & Red River Gorge in Florida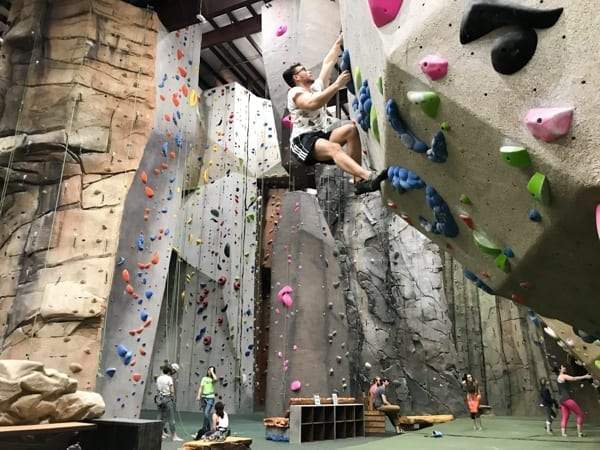 The largest climbing gym in Florida, ProjectRock in Oakland Park near Ft. Lauderdale, FL, opened its doors on December 29, 2017, with climbing walls designed and built by Eldorado Climbing Walls. The walls include large rock-realistic sections that look and climb like rock found in Yosemite, the Red River Gorge, and Devil's Tower. ProjectRock offers over 18,000 sq ft of climbing and bouldering with 80 climbing lanes and 125+ routes on walls soaring up to 60 feet tall.

ProjectRock owners Marc Landau and Jeffrey Echeverry wanted to offer Floridians and visitors to Southern Florida the opportunity to try outdoor climbing indoors. Eldorado was the logical project partner, having previously designed and constructed dozens of hand-sculpted, hand-painted rock-realistic climbing walls including 60,000 sq ft of terrain for the Boy Scout's Bechtel Summit, home of the National Jamboree.

Eldorado, designed over 4000 sq ft. of rock-like climbing terrain as well as 14,000 sq ft of planar surfaces that allow for highly creative routesetting and opportunities to hold competitions. And the most spectacular feature in the gym may be the freestanding stalagmite tower that sits below a separate stalactite—climbers can scale the bottom, move through a gap and transition onto the free-hanging top.

"Eldorado collaborated closely with Marc and Jeffrey to bring to life their unique vision," notes Kevin Volz, CEO of Eldorado Climbing Walls. "They wanted to provide people in Southern Florida a chance to climb the next best thing to real rocks. Eldorado has been building climbing walls for over 23 years and ProjectRock stands out as unparalleled in our portfolio and unprecedented in the world of climbing gyms. We love that we helped bring a bit of three of the most iconic climbing areas in the U.S. literally under one roof."
Visit ProjectRock Climbing Gym

A man climbs one of over a dozen continuous climbable cracks in the ProjectRock Climbing Gym in Oakland Park, FL, near Ft. Lauderdale, FL.

A climber transitions from the stalagmite up onto the stalactite feature.

A woman climbs a section of climbing wall in a rock climbing gym not far from Miami, FL

A woman prepares to climb up from a stalagmite onto a stalactite.



Eldorado Climbing Walls hand-carved and hand-sculpted a 39′ indoor rock climbing wall that resembles Devil's Tower
---