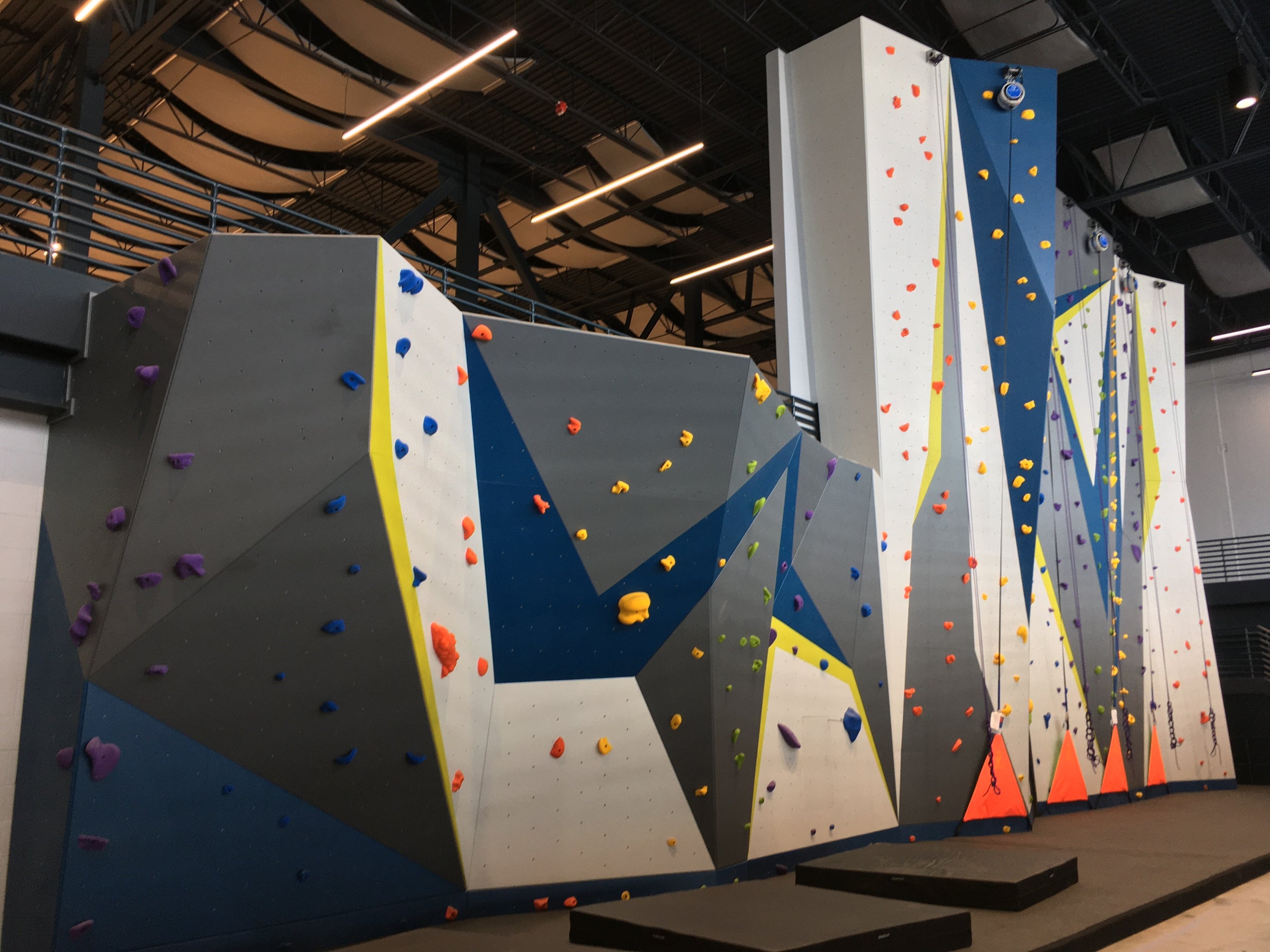 The leader in recreation center climbing walls
Sport climbing is a rapidly growing sport in North America. Bring climbing to YOUR community recreation center.
Looking for a new tool to spark the imaginations of your members and get them moving, thinking, and building community? Invest in a climbing wall for your recreation center. Eldorado offers walls:
that attract and retain members
appeal to people from 7 to 70 years old
entertain beginners as well as competitive and seasoned climbers
can be built indoors or outside
accommodate any site or space
match your programming and throughput objectives
fit within virtually any budget
are exponentially less expensive to build, manage, and maintain than a swimming pool
Partner with the rock climbing wall builder that is preferred by Boys & Girls Clubs, YMCAs and recreation centers across the U.S.
Selection of Recreation Center Projects
       

City of Red Deer – Reed Deer, AB
Faucett Activity Center – Tuscaloosa, AL
Red Mountain Multi-generational Center – Mesa, AZ
Glendale Foothills Recreation Center – Glendale, AZ
City of Cottonwood Rec Center – Cottonwood, AZ
Red Mountain Multi-generational Center – Mesa, AZ
City of Mesa – Mesa, AZ
Cerebral Palsy Foundation – Irvine, CA
Roxbury Park – Beverly Hills, CA
Truckee Donner Recreation and Park District – Truckee, CA
Longmont Recreation Center – Longmont, CO
Iselin Park Pool and Ice Center – Aspen, CO
Recreation Center – Breckenridge, CO
Durango Community Center – Durango, CO
Paul Derda Recreation Center – Broomfield, CO
Carbondale Recreation Center – Carbondale, CO
Golden Recreation Center – Golden, CO
Recreation Center – Westminster, CO
WECMRD – Edwards, CO
Glenwood Recreation Center – Glenwood Springs, CO
Sports Complex SoNo – Norwalk, CT
City of Oviedo – Oviedo, FL
Salvation Army Kroc Center – Atlanta, GA
Siouxland Chamber of Commerce – Sioux City, IA
Patriots Gateway Community Center – Rockford, IL
Salvation Army Corps – Blue Island, IL
South Loop Fieldhouse – Chicago, IL
The Centre of Elgin – Elgin, IL
Riverside Health – Kankakee, IL
Bloomington SportsPlex – Bloomington, IN
Kroc Center – South Bend, IN


    

Letcher County Recreation – Whitesburg, KY
Perkins Road Project BREC – Baton Rouge, LA
White Oak Community Center – Silver Spring, MD
Recreation Center – Lakeville, MN
West Rock Community Centre – Corner Brook, NF
Kirtland AFB – Boys and Girls Club – Albuquerque, NM
City of Albuquerque – Albuquerque, NM
PATH Family Center – Staten Island, NY
Caledon Centre for Recreation and Wellness – Caledon, ON
Salvation Army Kroc Center – Greenville, SC
Horry County Recreation Center – Little River, SC
Horry County – South Strand – Conway, SC
Carolina Forest Recreation Center – Myrtle Beach, SC
Lions Club Park Aquatics Center – Killeen, TX
Oak Point Recreation Center – Plano, TX
Elzie Odoms Recreational Center – Arlington, TX
New Eastwood Recreation Center – El Paso, TX
Marty Robbins Rec Center – El Paso, TX
Brewer's Ledge – Gus Garcia Recreation Center – Austin, TX
Wylie Recreation Center – Wylie, TX
Naval Air Station Joint Reserve Base – Fort Worth, TX
Park City Recreation Center – Park City, UT
Lambert's Point Community Center – Norfolk, VA
Williams Farm Recreation Center – Virginia Beach, VA
Salvation Army Kroc Center – Norfolk, VA
Rock Springs Civic Center – Rock Springs, WY
Campbell County Recreation Center – Gillette, WY
Grand Targhee Recreation Center – Alta , WY
CYC-Rebecca K. Crown Youth Center – Chicago, IL