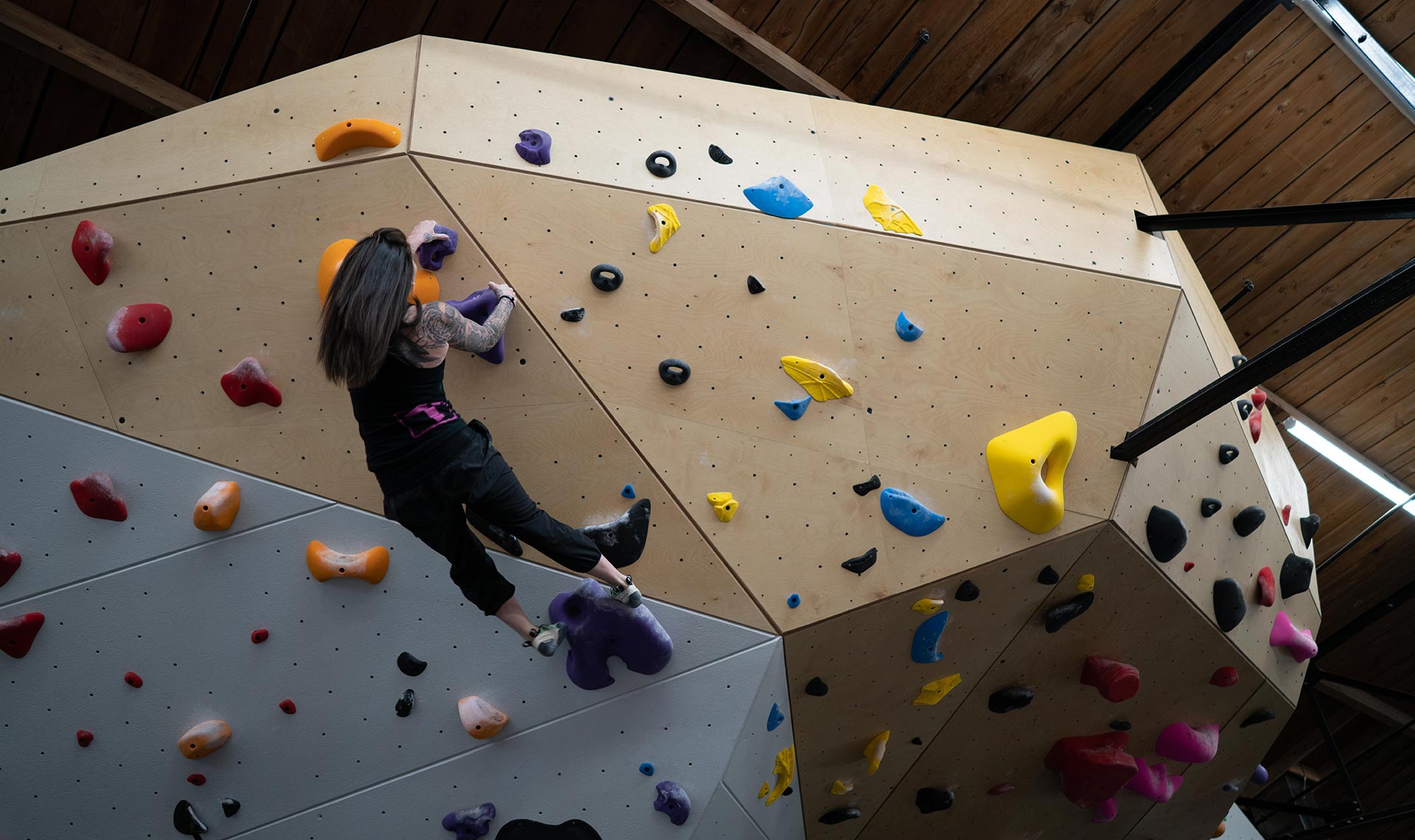 Custom Climbing Walls & Bouldering Walls
Solid service. Solid design. Solid Construction. Enduring relationships.
1000s of organizations and homeowners have chosen Eldorado as their sport climbing wall & bouldering wall design and construction company
In over 30 years in business, Eldorado has built over 2000 rock climbing walls for not only climbing gyms and bouldering gyms, but also in recreation centers, YMCAs, schools, playgrounds, corporate headquarters, private homes, military bases and posts, and colleges and universities. Eldo even built 60,000 sq. ft. of hand-sculpted climbing terrain for the Boy Scouts that is large enough to accommodate over 40,000 scouts climbing in 7 days. Our team has the expertise, experience, and creativity to create a climbing wall that matches your vision, facility, user group, programming, budget, and preferred sport climbing style.Of all the climbing wall construction companies, Eldorado is known for creating beautiful, durable, maintenance-free rock climbing and bouldering walls whose lifespan is measured in decades and not just years. The process from climbing wall cost to how to install climbing holds is open and transparent. When you are ready to buy a rock climbing wall, choose Eldorado.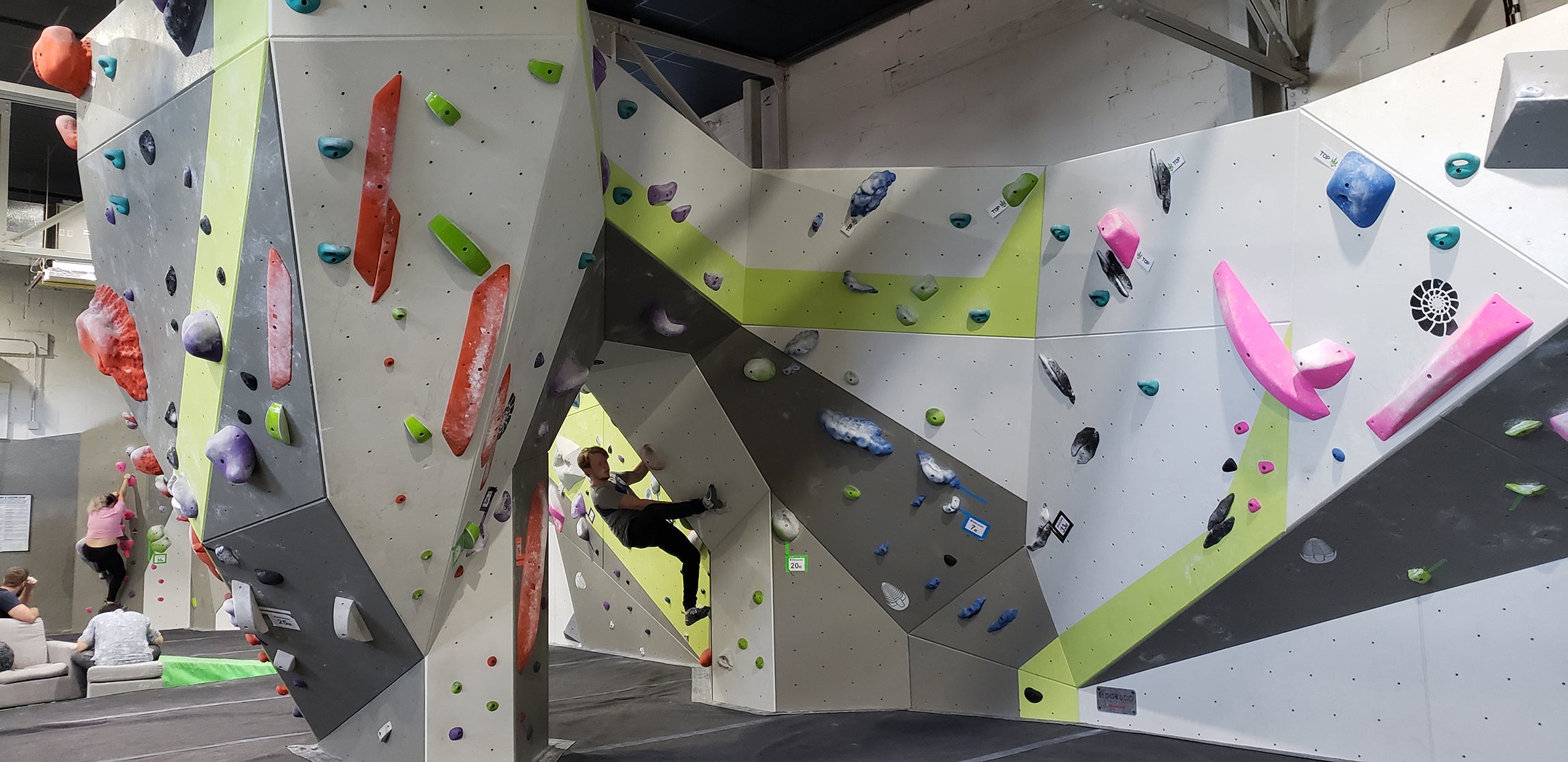 Dyno Climb-Deland, FL
Panelized
Panelized Wall™ provides sport climbing wall operators with a quick-installation, contemporary design, and a textured surface that grips but doesn't scrape knees. Large planar surfaces allow for easy use of volumes and screw-ons. Color options and design possibilities are endless.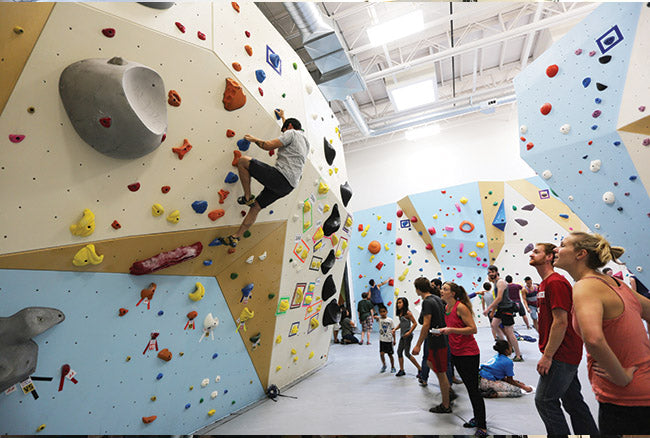 Reducing the time it takes to open a climbing gym or complete an expansion in an existing facility is critical. The process to manufacture and install walls using the Panelized Wall System is efficient and time-sensitive. Portland Rock Gym - Portland, OR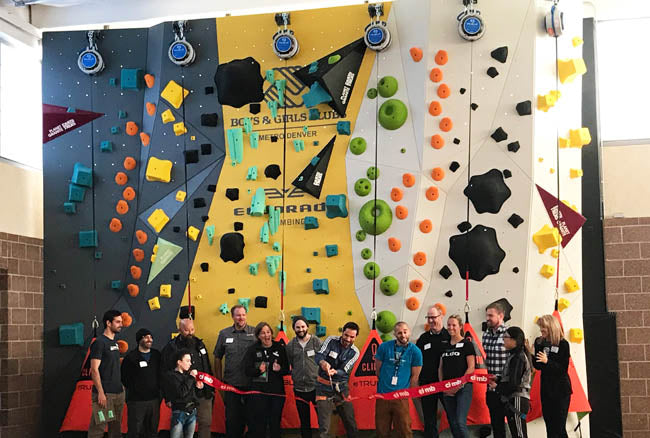 Bring life to underutilized space with a low-profile, small footprint Panelized climbing wall. Facilities with a gym or basketball court can add an activity to a wall and not interfere with games on the court. IMAGE Boys & Girls Club - Denver, CO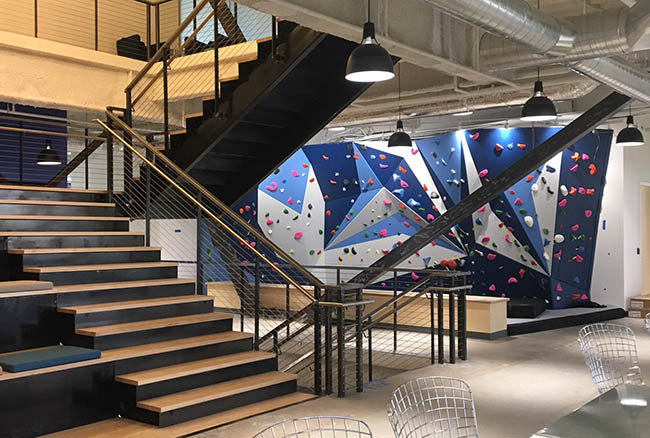 A bouldering wall is an office fitness amenity that attracts and retains employees. Panelized climbing walls are quick to install and can be built in many cases without having to close an office. IMAGE Lucid Technologies HQ - Logan, UT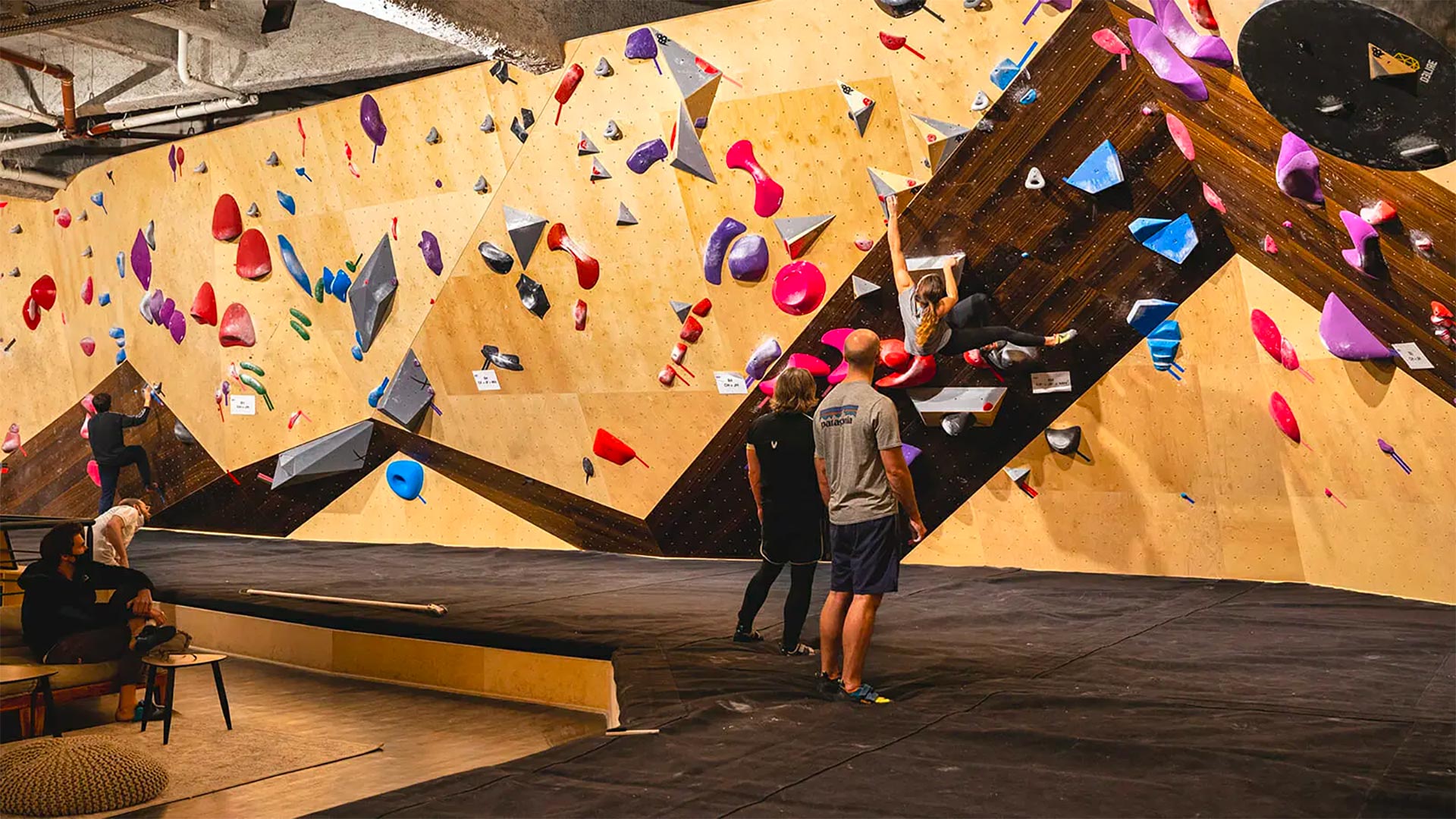 Climbing District Batignolles (Project by our collaborator Walltech Climbing)
Wood Finishes
Eldorado Climbing offers a world of options for walls showcasing wood finishes. With Walltech Climbing as a collaborator, Eldorado has access to unique woods and construction processes.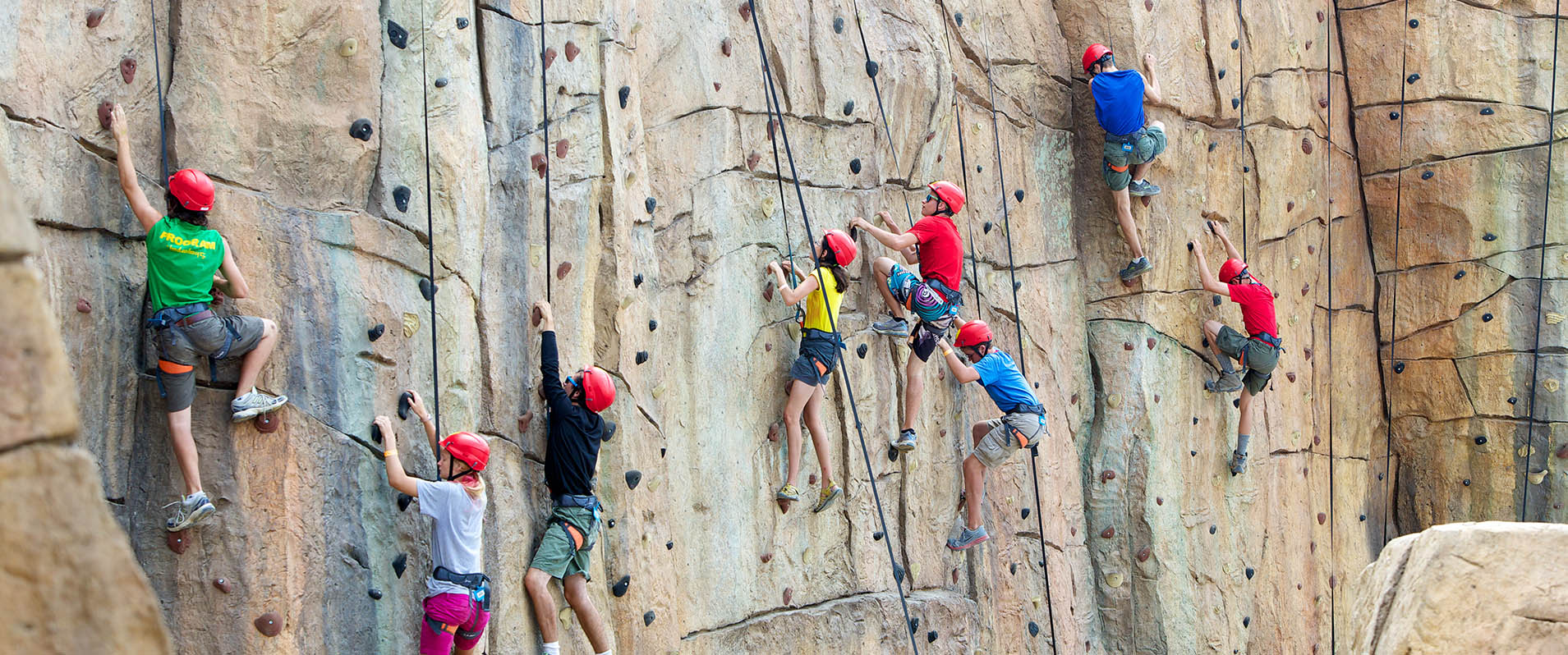 Summit Bechtel Family National Scout Reserve - Glen Jean, WV
RealRock
RealRock™ is designed for beauty and realism. Create natural features like pinnacles, roofs, arêtes, arches, chimneys, dihedrals, and cracks. The hand-sculpted surface can mimic the look of any rock – granite, sandstone, basalt, limestone, and more.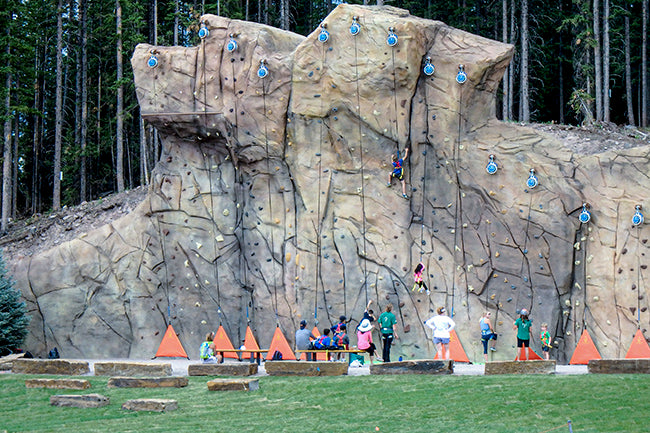 Rock realistic climbing walls work naturally with other outdoor amenities like ropes courses and mountain coasters. And Eldo understands the unique rules that must be followed when building on land leased from the U.S. Forest Service. Aspen Snowmass Lost Forest's Rugged Ascent Climbing Wall - Snowmass, CO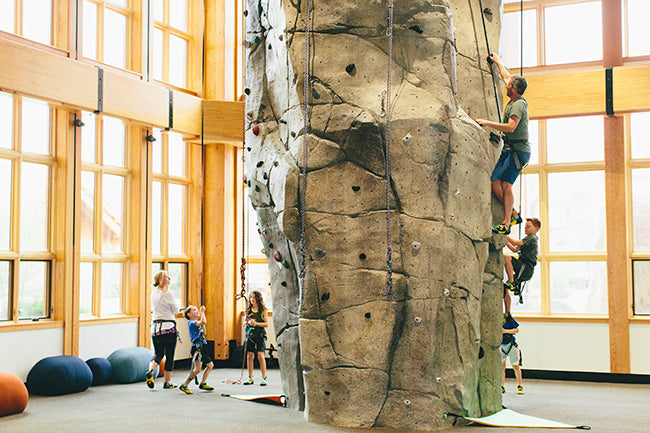 A bit of nature indoors is exactly what many resorts and hotels are looking to add to fitness centers, lobbies, and recreation centers. Stowe Rocks Climbing Center - Stowe, VT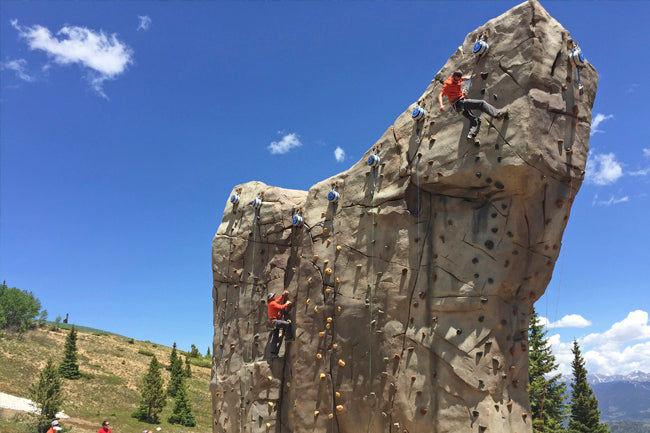 Building on-mountain at a ski resort demands a special set of skills in the areas of engineering and construction. Eldo has constructed climbing walls for multiple major ski resorts including 4 for Vail. Breckenridge Ski Resort, Breckenridge, CO
1 Exploration
Share your vision, specifications, programming needs, facility details, desired return on investment (ROI), and budget with the Sales Team. They will brainstorm with you and explore the mix of product options, styles, functionality, price ranges, and climbing wall equipment needed.
2 Estimate
The sales team will create an estimate that includes design ideas, wall product suggestions, and the proposed price and timeline.
3 Contract
A formal contract will be sent outlining the items agreed to in the proposal. This contract is in place to manage expectations on both sides right from the start of our partnership. Once both parties sign the contract, the climbing wall design and construction process may begin.
4 Design
Our climbing wall design process makes sure that the beauty of your walls is not just skin deep. We:
Create a functional space that directs traffic flow, encourages membership growth and retention, maximizes available rock climbing terrain and community space while providing variation in climbing styles, features and difficulty.
Maximize the ROI for the climbing walls in you rock climbing gym, bouldering gym, facility, or home.
Design a truly customized and unique design. Our systems are custom-tailored to your facility or home, user groups, and programming objectives.
Communicate frequently, openly, and honestly. You should have NO surprises at any stage of the climbing wall design or construction process.
Take your approved climbing wall designs through to shop drawings, engineering, and prefabrication.
5 Construction
Eldorado's Project Management Team is the best in the business. Your project will be done on-time, within budget, and be a quality product.
After approving the install schedule and the installation mobilization date, our team mobilizes to begin building. For new build projects, we typically arrive on site once the building is dried in and heated, just prior to installation of finishes.
Phases of construction vary depending on projects, but most follow a similar process where our BombProof™ framing system is erected, then the surface layer or "substrate" is applied, followed by texture or seaming depending on the wall system.
Finally, the paint details are applied to bring this world class rock wall to life.
Timelines for project completion will vary depending on each project's scope of work, complexity of design, and products selected. Many simple projects take a matter of a few weeks, while more complex ones may take several months.
6 Post-Construction
Before we demobilize, we will provide a brief training on the maintenance and overall operation of your wall. Eldorado will always be available to provide on-going support. We offer many climbing wall services including climbing wall inspections and refurbishment.
When the Eldo team leaves, your wall will be a beautiful, durable, blank canvas that is ready for your first routes. If you'd like Eldo to set the first collection of routes for you, we can build that into the contract.