8 Ways to Ensure New & Existing Climbing Walls Support Adaptive Climbers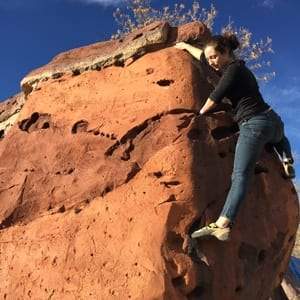 Are you designing, constructing, or renovating a college, recreation center, school, YMCA, corporate HQ, or any other building that specifies a rock climbing wall?
Do you have an existing climbing wall and program and would like to better support adaptive climbers?In both cases, think beyond the minimum ADA requirements. The suggestions below can help you support and tap into a HUGE user group that is typically overlooked–the Adaptive Climber.
WHO ARE ADAPTIVE CLIMBERS?
For this article, adaptive climbers are individuals with physical challenges rather than people with developmental challenges. The strategies included below will support a program for climbers with paralysis, amputation, visual/hearing impairment, neuro-muscular disorders, and other physical impairments.
This image shows a new way of setting routes for sit climbers or climbers who use a wheelchair. The route is set in a corner and very large holds are placed a few feet apart with smaller holds in between. The idea is that the climber can pull up on the small holds and work towards each of the large holds. They can sit on those large holds to rest and determine their strategy and path for using the smaller holds to get to the next large hold. Athlete pictured: Jesse Sporte
Incorporate less-than-vertical sections of wall, a.k.a. slabs (NEW BUILD)—Routes that go up slabs are often the first climbs for most climbers. Since the climber can lean slightly forward and put weight fully on a foot or feet, the experience can be much like climbing a ladder. For anyone with balance issues or limited upper body strength or functionality, slab routes are optimal.
Provide enough floor space for wheelchairs, assistance dogs, and specialized gear (NEW BUILD & EXISTING WALLS)—Many adaptive climbers have a lot of stuff in tow. You need to ensure that there is enough space for what is left on the ground and it is out of the fall zone.
Include slightly more-than-vertical areas of wall, a.k.a. overhangs (NEW BUILD)—Overhangs provide safe terrain for sit climbers who need to campus or jug up a route. Campusing is a technique where the climber just uses their hands to pull up from hold to hold—imagine moving up the underside of a ladder without using your feet. Jugging is a process by which a climber ascends a rope using an auto-locking device. With either style, the climber should not have to drag themselves along the wall.
Build a corner (NEW BUILD)—Corners are particularly good for setting a groundbreaking, new style of routes for sit climbers. This style allows the climber to rest along the route by sitting on very large holds that are incorporated into the route. Imagine doing a few pull-ups to move up and then sitting on a shelf. You figure out your next set of moves, do a few more pull-ups, then rest again. Repeat until you reach the top of the route. This provides an opportunity for strategy and not just strength.
Choose walls with large, planar surfaces (NEW BUILD)—Creative routesetting is critical for the success of any climbing program, including adaptive. Large, flat areas accommodate giant holds and volumes as well as a high concentration of smaller holds.
Focus on routesetting (EXISTING WALLS)

—In addition to the routesetting described in idea #3, add routes using large jug holds that someone with an upper limb issue can hook or wrap their arm around or that someone with a prosthetic can stand on comfortably. If you have overhanging wall, set a jug route for sit climbers who want to campus up the wall. As with all routesetting, it is part art and science. For more information about routesetting for adaptive climbing, contact

Paradox Sports

.
Large hand holds can be incorporated into rock-realistic walls.
7. Add or upgrade ramps to access deeply padded areas (NEW BUILD & EXISTING WALLS)—Most indoor climbing facilities have padding below some walls that stands a foot tall above the rest of the floor. Add a ramp so wheelchairs can access that climbing terrain more easily. Even if the climber is not adaptive, their friends or family might be. Everyone should feel welcome and able to cheer on their friends. 8. Train staff to effectively support adaptive climbers (NEW BUILD & EXISTING WALLS)—Contact an organization like Paradox Sports to arrange for specialized staff training. Courses cover:
Climbing Techniques
Assisted Belay
Mechanical Assistance
Side Climbing
Adaptive Tools: Climbing feet and other prosthetic systems
Ultimately, the beauty of intentionally designing inclusive terrain is that EVERYONE benefits, not just the adaptive climbers. Climbers of all abilities can be challenged through routes set on slabs, overhangs, and corners. For more information on climbing wall design with adaptive climbing in mind, contact the Eldorado Team.
CHAT with us
sales@eldowalls.com
(303) 447-0512 For more information on how to develop an adaptive climbing program, contact,
Paradox Sports
(720) 638-5593
info@paradoxsports.org
---