Top 9 Reasons to Add a Climbing Wall to Your Corporate Facility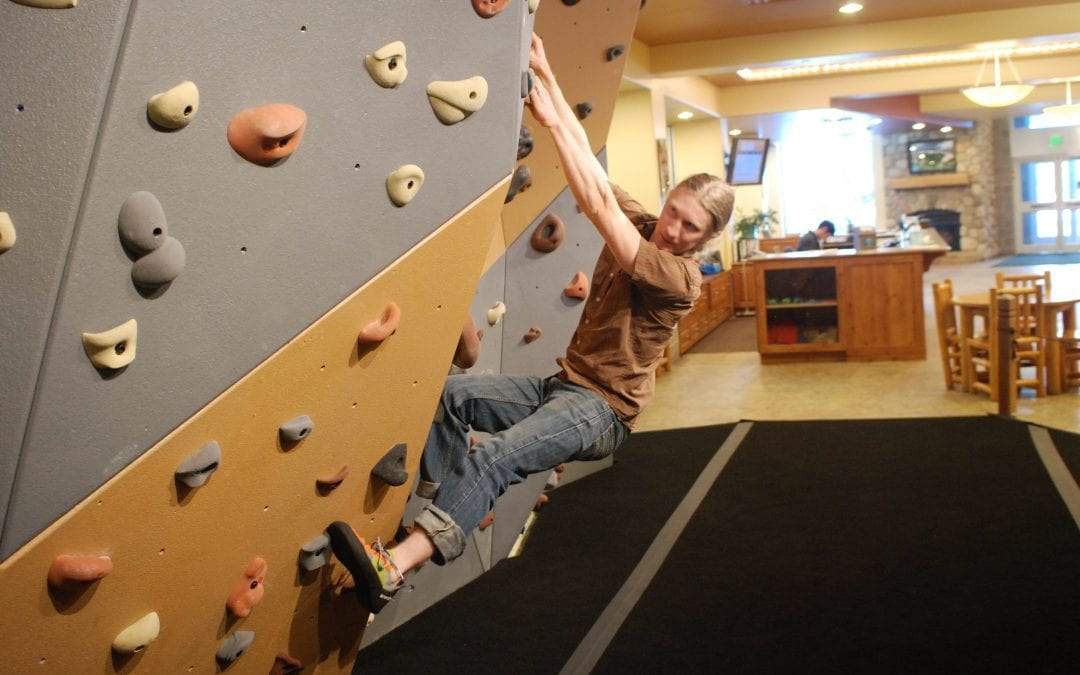 Investment in a climbing wall as an amenity for your corporate campus or headquarters will resonate with different C-Suite departments for different reasons. And study results show them to be on the mark. Here are some of the top reasons to add a corporate climbing wall to your office. HUMAN RESOURCES Climbing walls support happy, healthy, focused employees.
Activities like climbing, done over a short period of time have dramatic working memory benefits.1
Highly involved activities like rock climbing lower stress levels.2
Rock climbing meets the American College of Sports Medicine's guidelines for heart rate and energy expenditure.3
Regular exercise at work reduces absenteeism.4
RISK MITIGATION Indoor climbing is one of the safest forms of exercise around and that statement is supported by data.
In a study conducted over a 5-year period, the overall injury rate was only 0.02 injuries per 1000 hours of climbing activities.5 By comparison, injuries sustained while running range from 2.5 to 12.1 injuries per 1000 hours of running, depending on the nature of the study.6
FACILITIES & OPERATIONS Corporate climbing walls are low maintenance, low cost, require little to no staffing, and can be designed to match your building's aesthetic.
Prices range from only $10,000 for a modular bouldering wall to as little as $100,000 for a custom roped climbing wall that will last 15-20 years.
Expect virtually no maintenance costs since few parts ever need to be replaced or upgraded and your staff conducts regular inspections.
Use of TRUBLUE Auto Belays on tall walls or the installation of a shorter bouldering wall mean there is no need for manual belay staff.
The look of the wall can range from a rock-realistic surface that mimics stone in the surrounding environment to bold, bright colors with a distinctive flair.
Check out some of Eldorado's corporate climbing wall projects to get some ideas for your office. Contact our Corporate Services Team with any questions.  
1 Ross G. Alloway, Tracy Packiam Alloway. "The Working Memory BENEFITS OF PROPRIOCEPTIVELY DEMANDING TRAINING: A PILOT STUDY 1.2," Perceptual and Motor Skills, 2015; 2 Ruth C. Engs, Alcohol and Other Drugs: Self Responsibility . Bloomington, IN: Tichenor Publishing Co. 1987; 3 A. Nicholson; S. Lopez; J. Burke; K. Emerson; R. Mueggenborg; and J. Dunbar, "Differences Physiological Responses and Health Benefits of Indoor Rock Climbing in College–aged Individuals," Journal of Undergraduate Kinesiology 2:2, 2007; 4 Lillian Lechner MPH; Hein de Vries PhD, "Effects of an Employee Fitness Program on Reduced Absenteeism," Journal of Occupational & Environmental Medicine, September 1997; 5 Volker R. Schöffl, MD, PhD, MHBA, Georg Hoffmann, Thomas Küpper, MD, PhD, "Acute Injury Risk and Severity in Indoor Climbing—A Prospective Analysis of 515,337 Indoor Climbing Wall Visits in 5 Years," Wilderness and Environmental Medicine, Sept 2013; 6 W. van Mechelen, "Running Injuries: A review of the epidemiological literature," Sports Med. 1992
---