Climbing for All: Eldorado Climbing and the National Ability Center Focus on Accessibility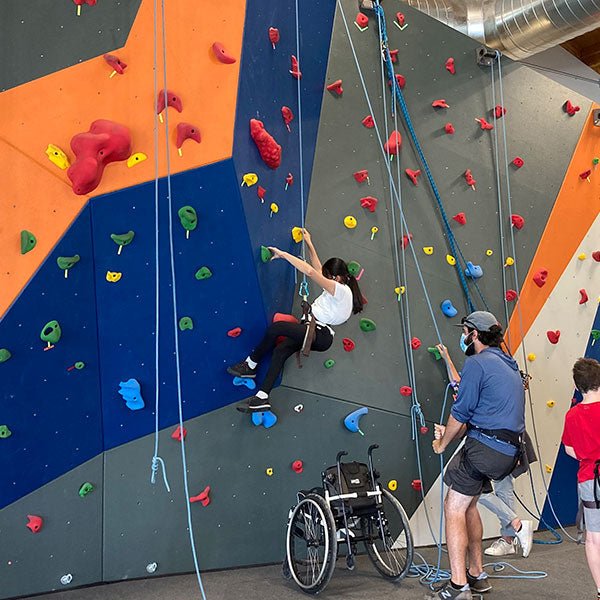 There are endless factors, from construction to operations, that go into making a climbing gym space accessible. "When you walk into a place where the signage is in your language, it feels welcoming and warming," said Luke Wooley, Senior Design Manager for Eldorado Climbing. Similarly, entering a place that is designed for people to move and interact with easily, rather than a place that feels forbidding and is difficult to navigate, creates opportunity and community. "Personally, I like to be able to give experiences to people who are sometimes designed out of our world, whether that is through sight or sound or movement or athletics," Wooley said.
Eldorado Climbing, a climbing manufacturing company based in Louisville, Colorado, emphasizes accessibility and inclusivity when designing and building climbing facilities. "If you make things truly physically accessible, it opens up the world to everybody," said Christina Frain, Eldorado's Director of Marketing.
Due in part to the company's focus on ensuring all people can use their walls, the National Ability Center (NAC) based in Park City, Utah, turned to Eldorado Climbing when they wanted to build a new climbing wall in their main facility.
Climbing Walls Designed Differently
The National Ability Center provides adaptive sports, outdoor adventures and educational programs for people of all abilities. Their programming includes, among many other activities, horseback riding, mountain biking, skiing, rafting, camping, and indoor and outdoor rock climbing. The NAC had some important parameters for their new climbing wall: it needed to fit within the available space; the wall needed to be accessible and adaptable to climbers of all abilities and experience levels; top rope bars were required even on the shortest routes; and the NAC had a timeline for getting the piece built and installed. Eldo was flexible and creative enough to design within these constraints.
The resulting wall is triangular in shape to match the peak of the roof, allowing for shorter walls on the sides and a tall wall with an overhang in the center that accommodates mechanical advantage set-ups. Each route has an anchor set-up on the ground to allow for aid-climbing and mechanical advantage systems. "On either end you've got shorter walls. Our kiddos who aren't really fans of heights or haven't climbed before can typically go to the top of a route there, which is awesome," said Steph Meyer, Recreation and Adventure Senior Program Manager for the NAC. "You can't really find a twelve-foot top rope wall anywhere else."
Additionally, the texture applied to the wall is less gritty than many climbing walls so that climbers who lean their bodies along the wall's surface will not get scraped. "It's pretty common to feel that sandpapery finish on climbing walls. But if there's a slabby wall and you're pulling yourself up with your legs dragging behind, that can be really uncomfortable and create abrasion on the skin," Woolley said. "So we adjusted the density of that aggregate to make a more comfortable experience for those users."
The final product is a wall with a variety of terrain, from slabs to overhangs, that NAC instructors and athletes find exciting and easy to use. It has become a centerpiece in the NAC's programming. "That wall is such a piece of art for us," Meyer said. "They matched our brand colors. They've got our logo up there. It looks super sleek in the backdrop of all of our event pictures. I have it set as the background photo on my computer."
Above and Beyond ADA
Eldo's commitment to making climbing spaces accessible to all people means going above and beyond what is required by law under the Americans with Disabilities Act (ADA). "At a very basic level, ADA helps make spaces more accessible to those who have mobility challenges or visual impairment. It is a very specific list of requirements you have to meet," Frain said. "But just because you have a ramp going into a building doesn't mean that once you're inside the building the floors are stable enough to accommodate someone utilizing crutches or trying to roll in a chair. The standard has been met, but it certainly isn't welcoming." True accessibility means evaluating the ways people will travel through a space and building it to accommodate all types of mobility. This applies to the hallways and common areas as well as to climbing walls themselves.
For example, at the NAC facility, the floor below the climbing wall was designed with removable pads to provide firm ground and better access for people in chairs. The pads can be replaced for bouldering or low-to-the-ground instruction when cushion is required. "When you take it a step further and create a really welcoming environment, it's good for not just the athletes and the potential users of the walls, but the people who are with them," Frain said. "Humans move in packs and we want to have our people with us."
Eldorado Climbing has come to specialize in accessible climbing spaces through close ties to the adaptive climbing community. Two of Eldo's employees, Christina Frain and Mo Beck, the Social Media Manager, are former board members for Paradox Sports, one of the leading authorities on adaptive climbing. Beck is an adaptive athlete herself, who also works as a guide for Paradox. Paradox Sports is a nonprofit with the mission of "transforming lives and communities through adaptive climbing opportunities that defy convention." Eldo's CEO, Kevin Volz, has made substantial financial commitments to Paradox, donating money to the nonprofit and developing a program where a percentage of sales goes to Paradox. Then Eldorado Climbing brought Paradox in to train its employees so that everyone at Eldo could understand how to take mobility challenges into consideration when designing walls and facilities. The two partners also co-authored an adaptive-ready checklist with "tips on how to make sure your place is accessible-ready."
"A myth we're working to dispel is that adaptive climbing is just dumbed down normal climbing," Beck said. "People often assume that adaptive climbing just needs to be easier. They think an accessible wall would just be easy terrain, and that's just not true at all. For example, seat climbers campus for 45 feet because they're so insanely strong." Adaptive climbing is about allowing people of all ability levels to move around, interact with, and ascend a wall comfortably, regardless of a route's difficulty.
Adventures for All
Eldo took adaptive climbing concerns into consideration when designing the wall for NAC, but this wasn't a unique, one-off case. All climbing walls and facilities can and should be designed with accessibility in mind. "There's no reason that any gym built from five years ago on cannot be completely accessible in the bigger sense of accessibility," Beck said.
"Those of us who spend a lot of time in the outdoors know that it's a really powerful experience in terms of bonding with people, learning how to approach challenges in life, and in building confidence to be able to do things in the workplace or in everyday life," said Whitney Thompson, NAC's Marketing Director. "It's crucial that everyone have access to that regardless of their background or their ability."
Creating climbing gyms that consider mobility challenges in their designs means that more people are invited to have these types of enriching growth experiences. A welcoming space also builds community. When people feel that a space is built for them, they are more likely to return, to invest in the people around them, and to participate as part of a larger community.
"There's something particularly special about climbing and overcoming fears. It doesn't matter who you are," Frain said.  "Climbing is scary the first time. Then you feel like a badass when you've managed to accomplish that first climb, that first lead, that first challenge. That should be available to everybody."
---